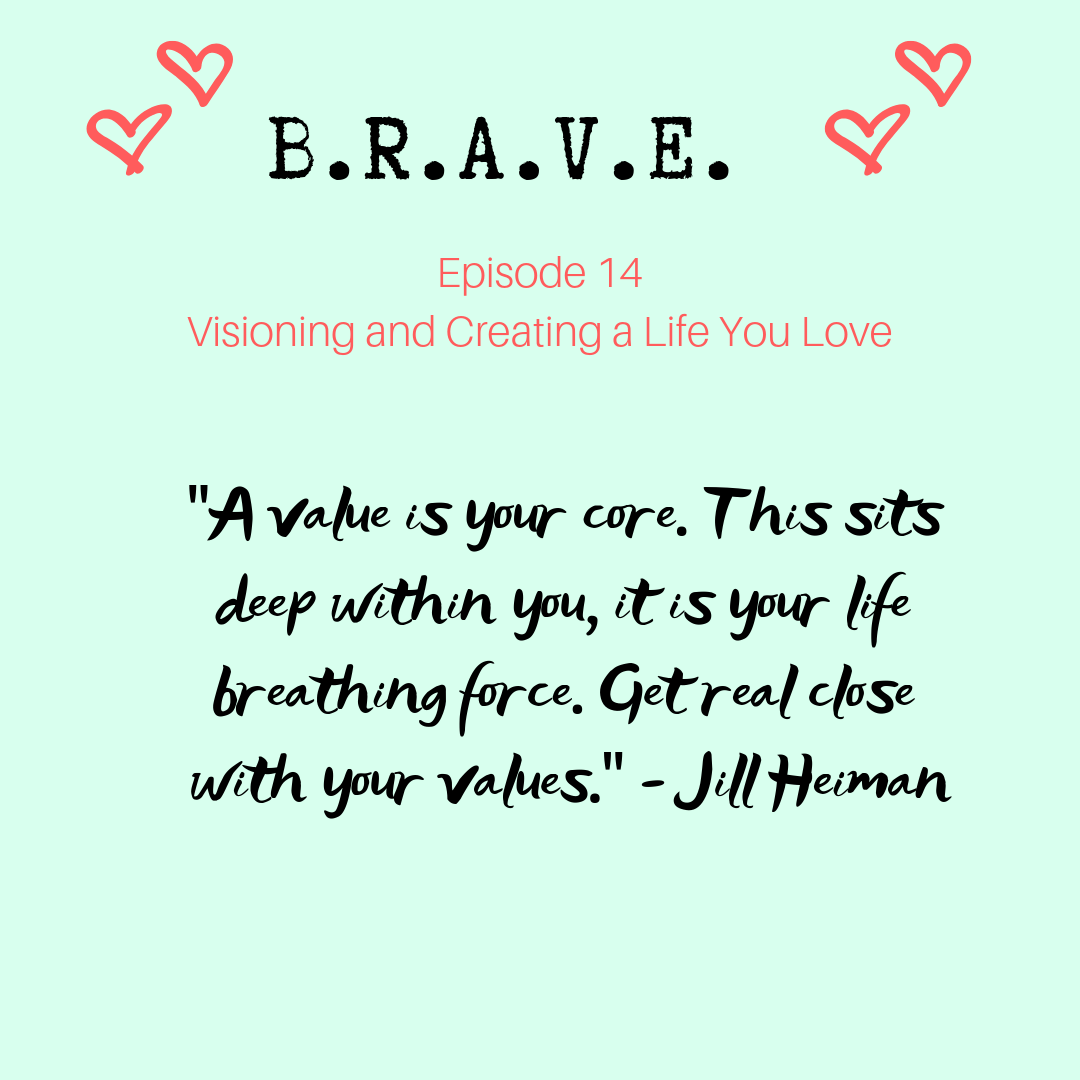 This week on B.R.A.V.E. Visionary Coach and Dream-Builder Teacher, Jill Heiman, joins us to drop some wisdom nuggets on visioning. Jill shares her journey and we discuss what visioning is and how to incorporate this valuable tool into your life. We discuss how visioning can be used for creating big shifts as well as creating your life on a daily basis. This begins with tapping into our own inner child because this is the pathway to our intuition and passion, it's important to connect and nourish our inner child. Jill drops some major wisdom on consistently coming from a place of compassion, how to re-frame triggers, how to be in engaged disengagement when necessary, and incorporating a daily gratitude practice. From here Jill goes into trusting Divine guidance, trusting that you have been called as an educator and stay connected to that calling by creating your own personal mission. To do this you will need to define your values and how this is the foundation for creating embodied change in your daily life and build towards holistic big life changes. We wrap up by sharing how to call in aligned friendships - aka soul tribe. There is an element of letting people go that do not light your fire. We share a bit of our friendship story as an example of how soul friendships will bring up our 'dark stuff', ask us to confront ourselves, be gritty, and help you connect to yourself and be the best version of yourself. Finally Jill shares her vision for the future of education which involves a new level of enlightenment within education to allow the power of our youth to shine. 
Weekly Questions
What is a shift you want to create in your life? In what area of your life is this? 
What is something or someone that triggers you? Sit with it - what comes up that you would like to heal? How can you be grateful? 
What is your personal mission statement? 
What are your values? Define them. 
Who is someone in your life that lifts you up? Are there people you need to let go? 
Check out Awake Journey at https://www.awakejourney.com and follow Jill on Instagram @awakejourney and email her at yourawakejourney@gmail.com to start you Awake Journey with her! 
Subscribe, rate, and review B.R.A.V.E. on the Stitcher App, Podbean, and ITunes! Follow B.R.A.V.E. on Instagram and Twitter @brave_educators and on Facebook @brave.educators Have questions or want to share your story on B.R.A.V.E.? Email me brave.educators@gmail.com. You can follow me personally on Instagram @embodied.soul.love
Until next week, go out Be BRAVE, Hearts Forward.